Hibachi grill takes a special place in Japanese cuisine, and it is used for cooking traditional Japanese barbeque. Everyone who has a soft spot for this type of dish looks to purchase the best Hibachi grill & BBQ within their households. It is believed that Hibachi has been around for hundreds of years, and its origin is traced back to ancient Japan.
The term Hibachi translates to "fire bowl," and these grills provide barbeque with a unique taste and distinctive oriental charm. Today's market is swamped with these products, and picking the right one may be difficult due to so many choices. Worry not, because we are here to help you. We did some research and came up with a list of the best-reviewed Hibachi grills and would like to share it with you. So without any delay, let us get started.
List of Best Hibachi Grill & BBQ
1. Chef Master Mini Hibachi Grill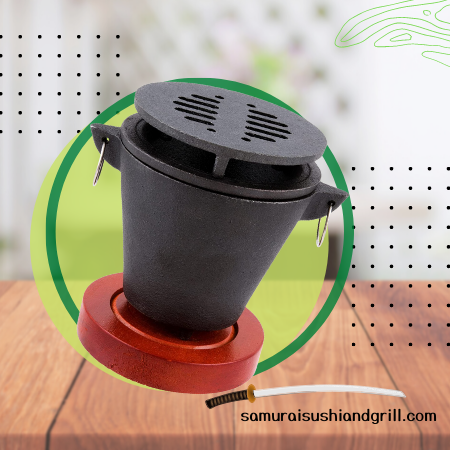 Coming from the Chef Master store, this is a cast iron grill with a wooden base, and its specific design ensures that you will have a fun and interesting cooking session. This product is pre-seasoned, very attractive, and portable, so convenience will not be an issue.
What makes this little grill stand out from its competition is that it spreads the heat efficiently and evenly, so everything that you cook will have a juicy and rich flavor. However, the cooking surface is pretty limiting, so you will be able to cook only three burgers at a time.
This is something that should not concern you too much since the food that Hibachi delivers is typically small in size, and the size of this product is just right for it. The small size adds another plus in the pros column for this grill since it gives it excellent portability and ease of use. Since it is a pot-shaped grill, you will be able to add lots of charcoal and maintain the temperature easily. It is a great product and worth checking out.
2. Noto Dia Table-top Charcoal Grill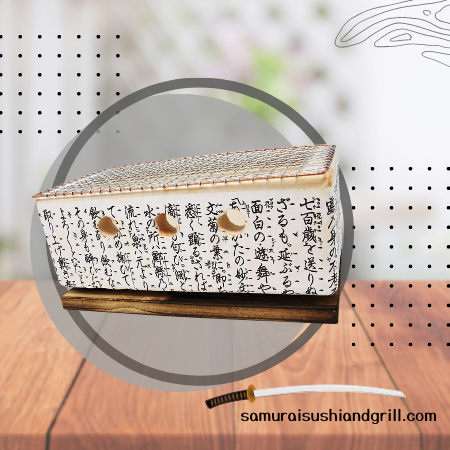 Beautifully designed, practical, and portable, this charcoal grill is built in traditional Japanese style. Apart from being eye candy, it is highly efficient and has a wooden base, and its construction is made of material similar to clay. However, this means that construction is quite fragile, so you should tread carefully when using it.
This is a small, portable grill, and it features a cooking surface of 63 square inches, which is sufficient for one or two persons. Needless to say, this is not a grill for larger cooking parties but will do an excellent job for some intimate dinner for a couple. The heat spreads really well, which will provide excellent food flavor.
This grill is ideal for indoor and outdoor use, and its beautiful aesthetic will make a great addition to any kitchen. It is well-designed and an excellent choice for Japanese cuisine lovers. Given the fact that it comes for a rather modest 99 dollars, you should definitely check it out.
3. Everdure CUBE Portable Charcoal Grill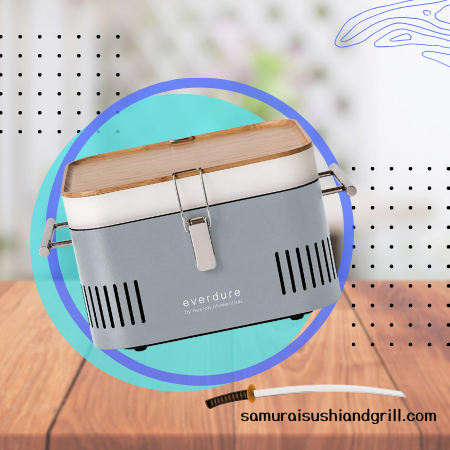 Ideal for both indoor and outdoor use, this portable charcoal grill has all the essential features to provide you with a delicious Japanese grill. The base plaque is integrated, so you will be able to cook on whichever surface you prefer effectively. Alongside the grill, the package comes with a food-grade storage tray and bamboo preparation board.
This product is made of lightweight steel and is equipped with handles on the sides, making it easy to carry around. Another great thing about it is the fact that you will be able to clean it very fast without any hassle. The grill boasts 115 square inches of cooking surface, which is more than enough for smaller cooking parties.
The product is absolutely gorgeous, simple, and well-built. Although there are no adjustments for grill height or airflow, it is not a significant drawback since this is a pretty small product. The heat is always spread evenly, and the food that comes from it is very delicious. Considering all features you get, the price of this product is more than reasonable.
4. Giantex Charcoal Hibachi Grill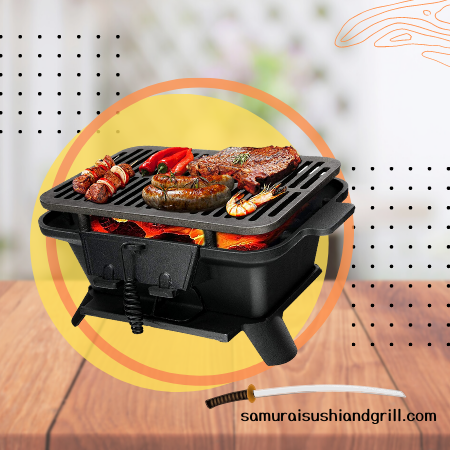 Sturdy construction, great appearance, and affordable price are just a couple of important selling points of this Giantex product. Regardless of where you want to cook, this Hibachi grill is definitely up for a task. Its 106 square inches of the cooking surface will be more than enough to cook for smaller and middle cooking parties.
The product is made from top to bottom with cast iron, so it will not dent, rust, or corrode. Cleaning it is also an easy task, and you will not have to waste too much time on it. A front-mounted fuel door is another handsome feature, which you will not be able to find on grills in a similar price range.
This is very important since you will not need to disturb the heat flow or lift grates when cooking, which will result in very delicious food. Double-sided adjustable grates are another amazing selling point for this product since they will enable you to put some distance between your food and open flame. Moreover, this grill is very sturdy and well-constructed, so its longevity is almost guaranteed.
5. Kenyon B70082 Stainless Steel Electric Hibachi Grill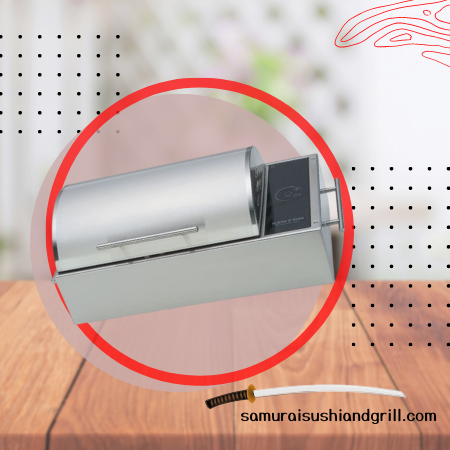 This electric Hibachi grill is a perfect product for everyone who enjoys indoor grilling. Although it comes with a much higher price tag than the rest of the products on our list, its convenient features are very satisfying, and after just a couple of cooks, you will never look back.
This grill is manufactured using top-notch stainless steel, so you know that it is a product of high quality and extreme sturdiness. In addition, it is not prone to corrosion, and the material helps you to retain the heat and spread it evenly in order to get the juiciest pieces of meat.
Kenyon B70082 features a 1.300-watt heating element, and it will soar up to 600 Fahrenheit degrees in just a couple of minutes. What really separates this product from the rest, and at the same time justifies the price tag, is that it gives you superb searing power without smoke or open flame, which is quite impressive.
6. Samdray Folding Hibachi Charcoal Grill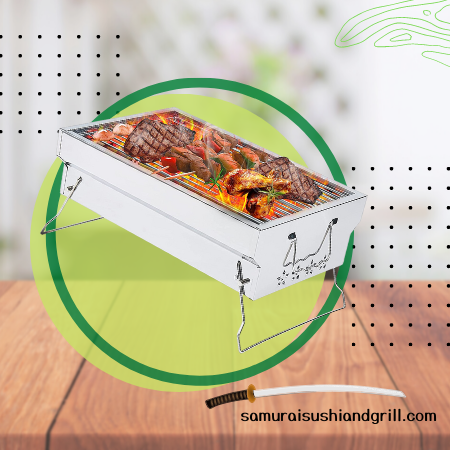 Coming from the Samdray store, this Hibachi charcoal grill offers a wide variety of features necessary for a successful cooking session. What makes this product great is its stainless steel construction, which is an amazing addition to a grill that comes with such a low price tag.
This grill boasts 181 square inches of cooking surface and weighs a mere 4.14 pounds, making it highly portable. Everything on this practical Hibachi grill is made of stainless steel, and the assembling process is fairly easy and can be done within a couple of minutes.
Both sides of the grill arrive with star-shaped vents that not only look great but also assist in appropriate airflow. So, in case you are a casual griller and looking for a cost-efficient, lightweight, and portable grill, this product might be exactly what you need, as it checks all important boxes and delivers excellent performance.
7. Happy Sales HSHG-ALMCNR Portable Hibachi Grill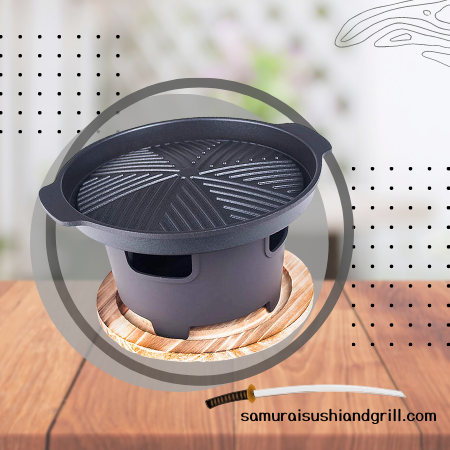 This tabletop Hibachi grill comes from the Happy Sales store, and it is a perfect solution for Japanese BBQ cooking parties. It is rather small in size and comes with a wood base, so you will be able to use it effectively both indoors and outdoors.
The great thing about this grill is that it is so small-sized and affordable, so even if you need a grill for larger cooking parties, you can simply purchase two or three units. Being so simple and good-looking, this product is suitable for different occasions and checks all the important boxes that the Japanese grill requires.
The body of the grill comes with large air vents that will effectively prevent smoking, and since you are not using charcoal, your food will be prepared in no time. You can also use it outside with charcoal, so versatility is a huge selling point for this product. Considering the low price tag and plenty of useful features, you should definitely check this grill out.
8. Weber Jumbo Joe Charcoal Grill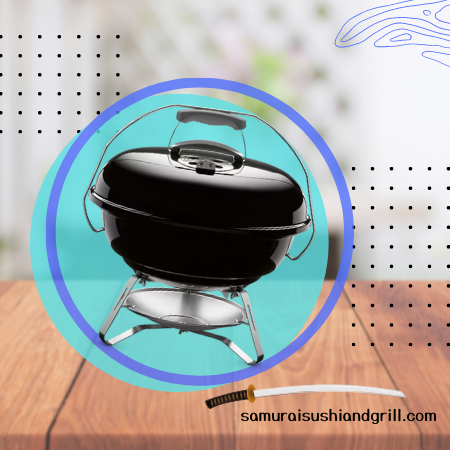 The visual appearance of the Weber Jumbo Joe charcoal grill truly represents a "bowl of fire" or Hibachi. It is a compact, lightweight, and portable grill that will deliver all the goods the charcoal grill should and then some. The product comes with strategically placed vents, so you know the heat control will be at the highest possible level.
Another impressive thing about this product is the fact that it comes at a more than a reasonable price, and when you consider the number of features, it feels like a real bargain. It is a great product for all types of outdoor uses like camping, and since it is so lightweight, you will be able to move it around with ease.
The versatility of this grill is yet another great selling point, and its sturdy build ensures a very long lifespan. It features a porcelain-enameled lid and bowl, which are the main reasons why you will be able to retain the heat throughout prolonged cooking sessions.
9. Fire Sense 60508 Notebook Charcoal Grill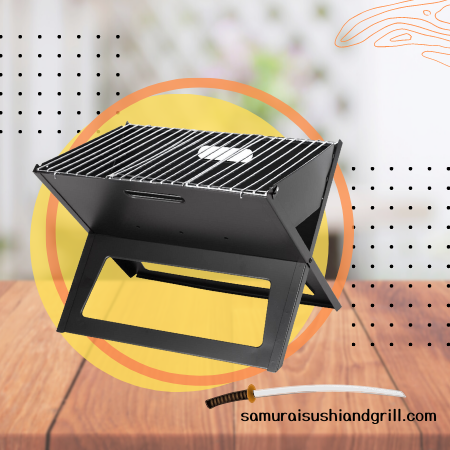 This foldable steel grill comes from the Fire Sense store and is a perfect pick for all grillers out there that want a compact and portable grill for outdoor and indoor cooking. You can set it up in just a couple of minutes and start cooking right away. It comes in black color and is entirely made of alloy steel.
The charcoal can be stacked deep into the grill's body which will grant you some additional heat necessary for delicious meats. Moreover, the heat spreads evenly, so you will be able to cook at the highest possible level. It is suitable for tabletop dining due to its small size and portability.
In addition, this grill is very easy to clean, and the whole process does not require much of your time. The product comes with a very low price tag, and considering the quality of cooks and ample features that make your meat smell and taste great, it is something that you should definitely check out.
10. Cuisinart CGG-180T Petit Gourmet Portable Tabletop Grill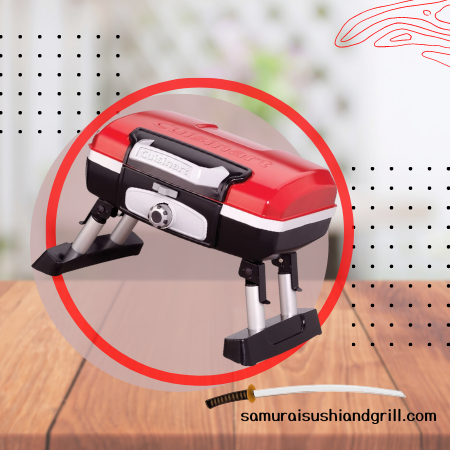 The Cuisinart CGG-180T portable grill is made of alloy steel and is a perfect product for everyone that likes taking his grilling outdoors. It is very light, compact, and affordable, so if you are in search of a budget-friendly grill, look no further.
The price really does not do the justice to this grill, as it offers multiple features that will provide you with excellent cooks and delicious meat. It boasts 145 square inches of cooking space, which will be more than enough for small to medium cooking parties.
The burner is made of stainless steel, and once this grill is lit, the heat spreads evenly and grants superb results for your food. The porcelain-enameled grates are built to last long and can take a lot of heat without warping and wearing over time. It is a great product that will spice up your grilling experience every time you light it.
Things to Consider When Purchasing a Hibachi Grill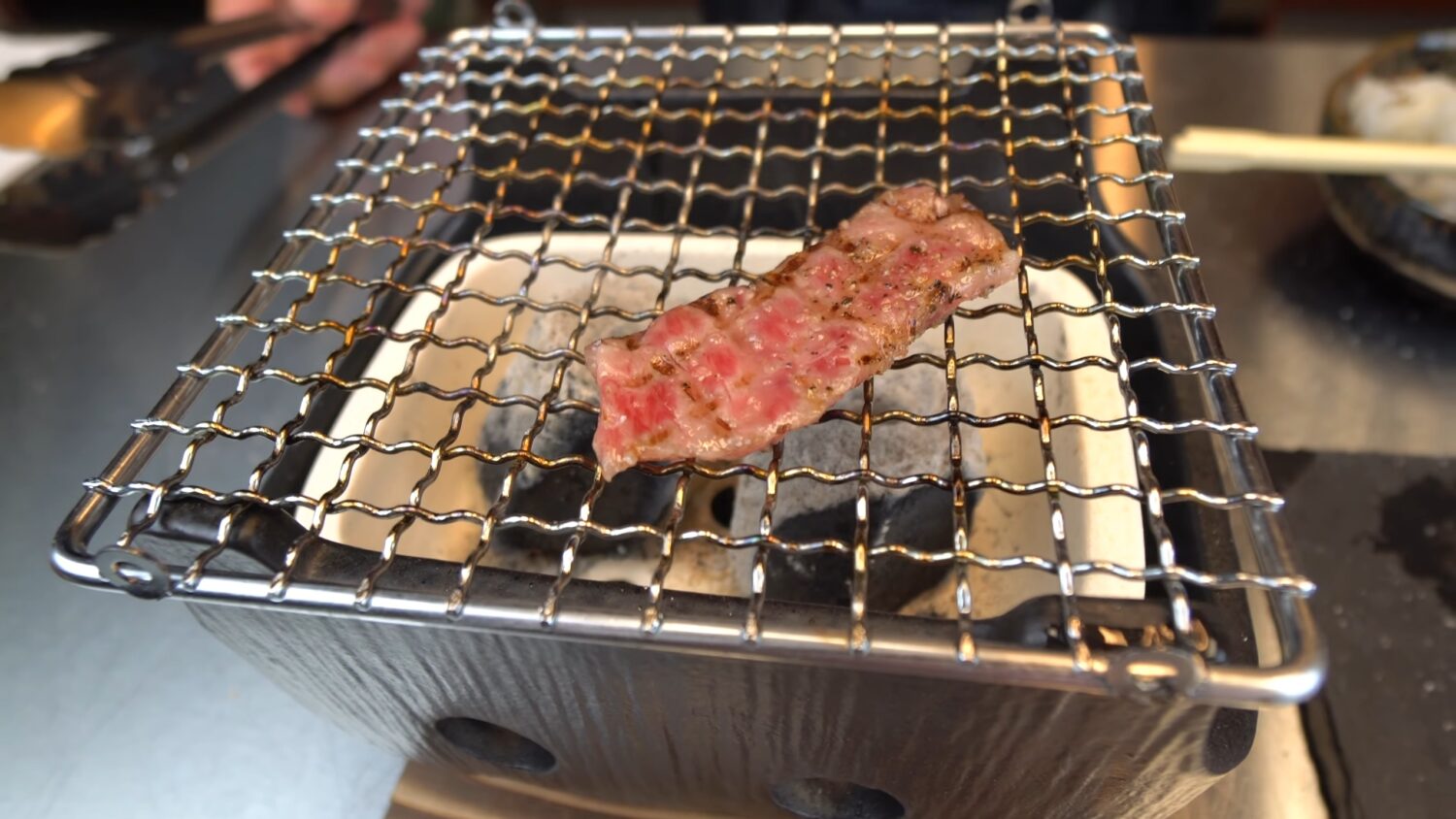 Nothing can beat a quality charcoal Hibachi grill when preparing some delicious Japanese grill. In order to get the best possible grill, you will have to dig deeper and pay attention to tiny details that make a quality grill. We want to help you with that, so we have put together a list of important features you should check out in the section below.
Size
Although most Hibachi grills are typically small in size, unless they are commercial-grade units, so you should still be able to flip more than two or three burgers on them simultaneously. Think about the number of people you plan to cook for, and you should figure out the size you require easily.
Cooking Surface
The cooking surface is one of the most important things to consider when buying a Hibachi grill. You will require a cooking surface that is able to reach high temperatures and spread the heat evenly to get the best possible cook. It is essential that this surface does not let the food fall through the gaps and that you can maneuver around the grill efficiently.
Ease of Cleaning
Cleaning the grill is definitely not the favorite part for any grilling enthusiast. However, it has to be done to preserve the longevity of the product. Ideally, your Hibachi grill should be clean after only a couple of wipes, while some models can be cleaned in the dishwasher. Check the manufacturer's manual before doing so.
Material
The material used in the manufacturing process of a Hibachi grill will ultimately determine its longevity and sturdiness. Look for a grill that is made of stainless steel or high-quality aluminum since these materials are corrosion resistant, sturdy, and can last for long periods.
Frequently Asked Questions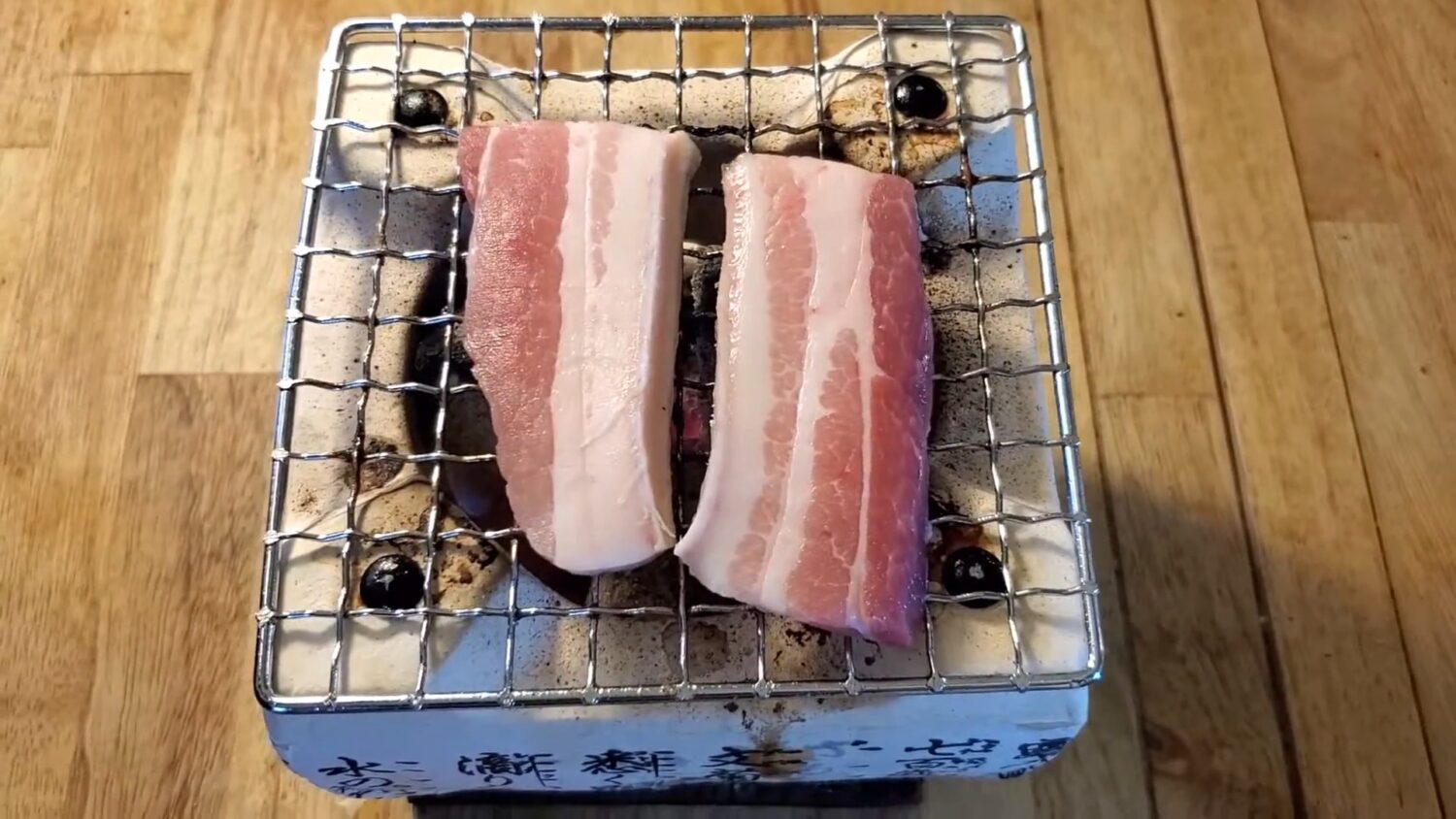 How much does a Hibachi grill cost?
The price for a Hibachi grill entirely depends on the materials used in the manufacturing process, its size, and its quality. The prices for these grills typically range between 50 and 200 US dollars, although there are some models that can go even above that price.
Are Hibachi grills meant to be used indoors?
Hibachi grills can be used both indoors and outdoors. Since most of them use charcoal and create a lot of smoke, it is recommended to use them outdoors. However, you can also use them indoors as long as you are cooking in a well-ventilated kitchen.
What is the maximum temperature that the Hibachi grill can reach?
Although they are very small in size, Hibachi grills can run surprisingly hot. Depending on how much charcoal you decide to add, this grill can heat up to 450 Fahrenheit degrees, while the edges of the grill surface run a bit cooler at approx 250 Fahrenheit degrees.
Is charcoal the only fuel source I can use in the Hibachi grill?
No, it is not, but you will certainly get the best results out of it. There are Hibachi grills that run on electricity and gas, but depending on the model, you can also use some alternative fuel sources such as wood or pellet.
What is the difference between Hibachi and teppanyaki grill?
These two often get mixed. Teppanyaki is a grill that uses a metal grill plate with a flat and solid surface, while the Hibachi grill uses an open grate or metal bars, giving your food a bit of exposure to an open flame.
Final Words
Not only that Hibachi grills provide juicy and delicious food, but they are also very decorative and will look great in any kitchen, patio, or backyard. They are great cooking devices, and if you are a Japanese cuisine enthusiast, you should definitely own one.
We hope you enjoyed our buying guide and that you find enough pieces of information in it to reach an educated decision in buying a Hibachi grill. Consider the critical features we have put together for you, and if you are still uncertain about which grill to purchase, revisit our top ten list in the sections above.