When people think about Japanese food, it is usually sushi, ramen, or katsu. However, grilled meat prepared in a very special way is also an essential part of their cuisine. In Japan, grilled meat is called yakiniku, and it is a term that is referred to all types of grilled dishes, not just one. The best Japanese grilling recipes are prepared on specialized equipment to get the best results.
Yakiniku is a term that also refers to restaurants that serve grilled food. Japanese grill is typically cut into smaller pieces and prepared on a grill net or hot plate, but some chefs prefer to cook it on tabletop grills. Some of the most popular types of grills are hibachi, shichirin, and konro. In this article, we will walk you through some of the best Japanese grill dishes and explain what it represents and how it is prepared. So, let us get into it.
Common Ingredients of Japanese Barbeque
Although there are numerous unique recipes prepared on different grills, it is safe to say that these dishes are all about neatly cut meats and healthy vegetables. These barbeque meals typically include the beef tongue, chicken, chucks, ribs, and offal.
There are also seafood and fish that are prepared fresh and usually served with some tasty dipping sauce. Vegetables are also an integral part of Japanese BBQ dishes, and you can find some grilled onions, peppers, eggplants, cabbage, and many more in them.
Japanese Grill Explained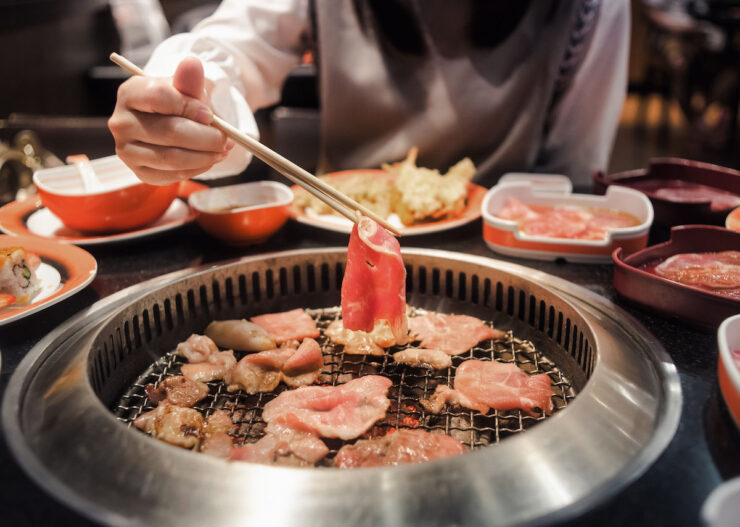 To make you get a better understanding of the recipes and the concept of preparing these dishes, we are going to walk you through the grills on which these meals are prepared.
In the past, hibachi was a heating device, and shichirin was a cooking grill. Nowadays, they are the same thing and refer to small grills with the main purpose of cooking yakiniku. Hibachi is the most popular grill, and it is one of the integral parts of culinary tradition.
In translation, hibachi means charcoal grill, which is a pot filled with charcoal and ash. Originally, it was used as a heater, but over time, people started cooking and preparing various dishes in this pot, which eventually became a perfect tool for cooking Japanese barbeque.
Today, hibachi is a small portable cast iron grill with mesh grates, and when it is used for cooking, people refer to it as shichirin. In America, these grills are usually electric and much more convenient to use than their charcoal counterparts. They are typically made of ceramic or clay and have a round shape.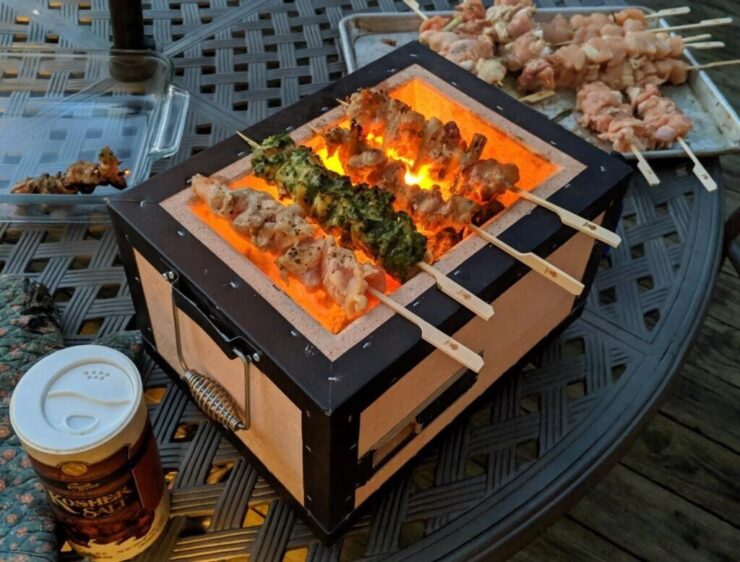 Konro is very similar to shichirin but is usually fueled by gas instead of charcoal. You can find it in the box or rectangular shape, making it ideal for preparing yakitori and skewered meats. It is a compact grill, great for both outdoor and indoor uses.
Teppan is the last type of grill we are going to discuss. It is a hot plate grill, and the word Teppan means "iron plate." It is a large flat propane-fueled griddle, which is used for cooking a variety of meats, veggies, seafood, pancakes, and omelet-style meals.
It originates all the way back to World War II, and it has been highly popular in restaurants ever since. Some of the most popular dishes that you can prepare on Teppan are okonomiyaki and beef yakiniku.
Best Grilling Recipes
Now that we have gone through the types of grills on which you can prepare these delicious dishes, it is time to list some of the most popular recipes. So without further delay, let us get into it.
1. Koji-Cured Grilled Salmon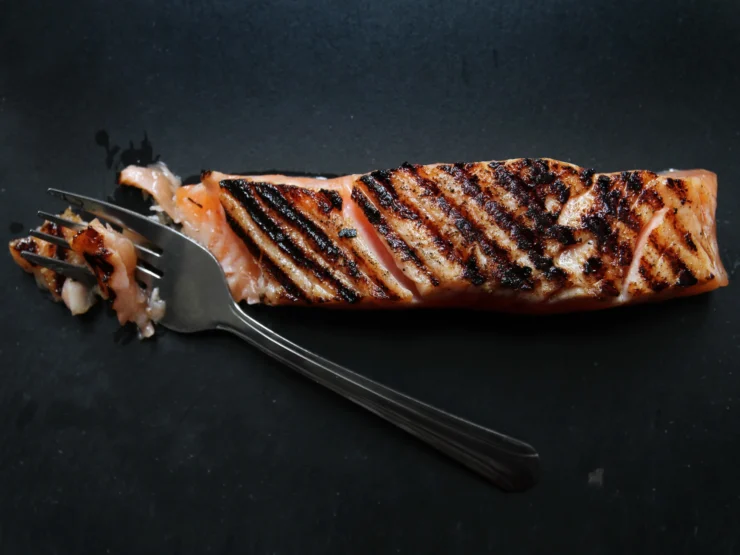 The main ingredients are salmon, koji (a fungus that grows on rice), barley, soybeans, and corn. There are two types of fungus used for cooking – ama-koji and shio-koji. It is recommended to use ama-koji since it has no salt, and you can control seasoning yourself.
Ingredients
2 salmon fillets
Salt
2 tablespoons ama-koji
Cheesecloth
Plastic wrap
2. Tadashi's Grilled Tomatoes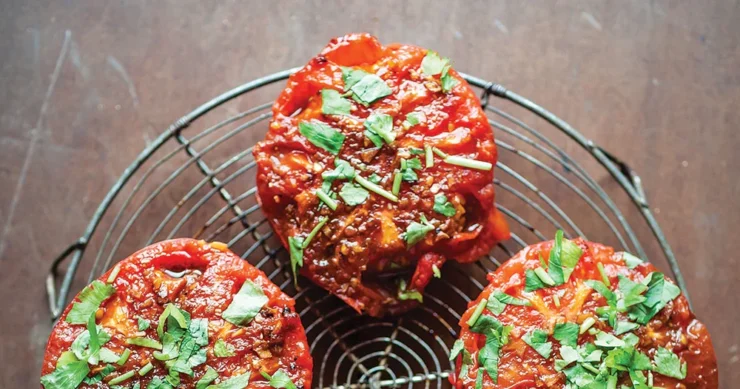 Ripe tomatoes can develop a very rich and full flavor when grilled with soy sauce. Mitsuba, which is a vegetable very similar to parsley, grants this tasty dish another level of freshness and adds a distinctive note to the flavor.
Ingredients
¼ cup olive oil
5 cloves of garlic
3 tablespoons soy sauce
1 tablespoon red yuzu kosho
1 tablespoon sansho
1 tablespoon kosher salt
4 medium tomatoes, halved crosswise
1 cup roughly chopped mitsuba, parsley, or cilantro leaves
3. Salmon Teriyaki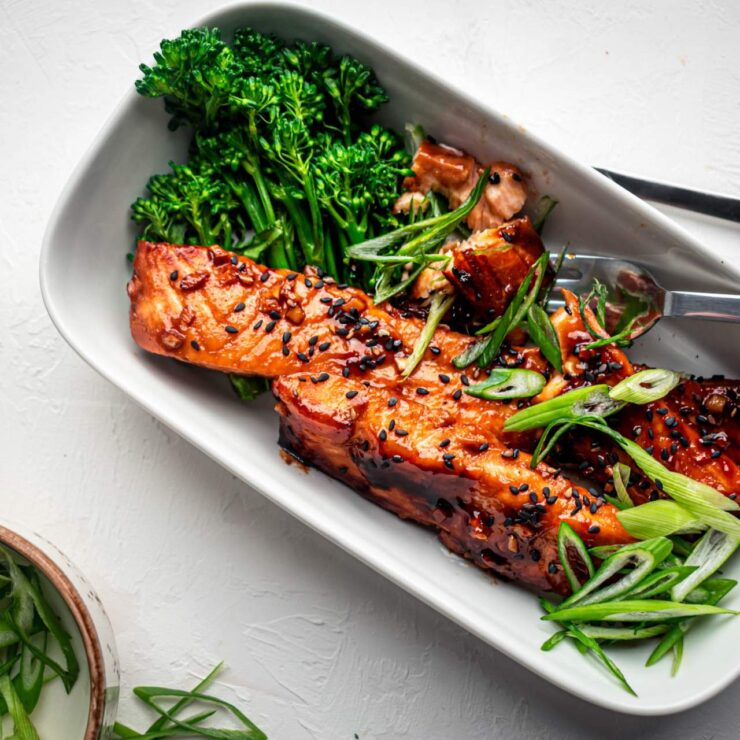 In the Japanese kitchen, teriyaki refers to a specific cooking style that includes glazing followed by grilling. In this dish, you need to prepare teriyaki sauce and use it to marinade the salmon before cooking. The sauce adds that special flavor to the dish, which is highly popular worldwide.
Ingredients
¾ cup mirin
¾ cup soy sauce
¼ cup and 2 tablespoons sake
¼ cup sugar
Six 4-oz skin-on salmon filets
1 medium scallion
2 tablespoons toasted sesame seeds
4. Yaki Onigiri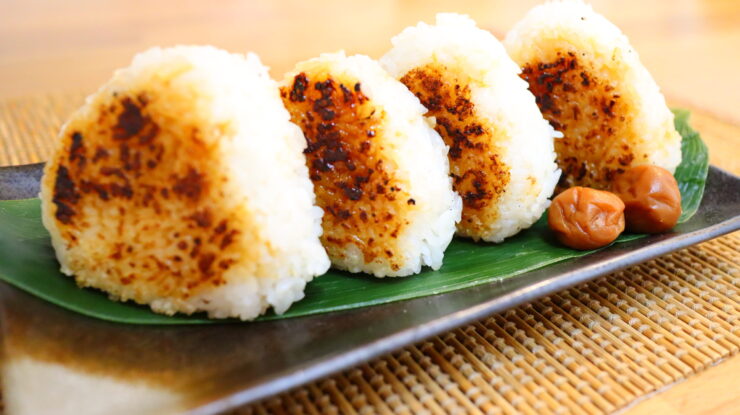 Onigiri refers to rice balls and is one of the Japanese most versatile snacks. They are generally stuffed or mixed on the outside with various tasty flavorings. This is a meal that goes way back in Japanese history and is a go-to food for picnics. In this particular recipe, they are grilled and coated with caramelized rice giving them an authentic and delicious note.
Ingredients
1 cup of cooked short-grain rice (1 per serving)
5. Chicken and Scallion Skewers with Yakitori Sauce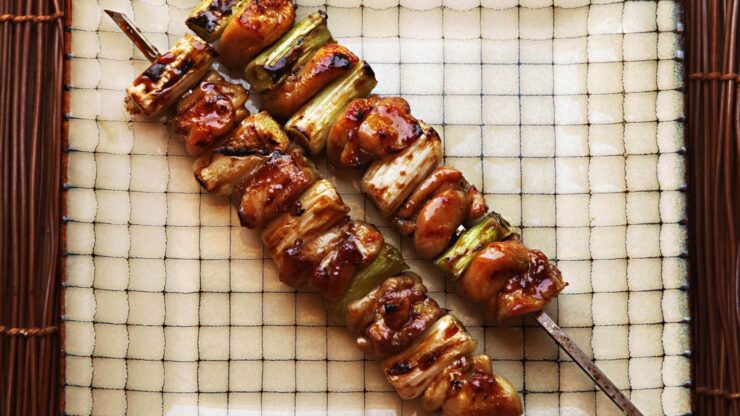 This grilled dish is a fairly simple yet very delicious combination of chicken and scallion skewers. What makes the flavor rather authentic is homemade yakitori sauce, which is a versatile marinade for meats and vegetables.
Ingredients
4 whole bone-in chicken legs
2 cups mirin
2 cups soy sauce
1 cup dry sake
2 tablespoons dark brown sugar
2 teaspoonfuls ground black pepper
16 large scallions cut into 1-inch lengths
5 cloves crushed garlic
1 2-inch piece ginger, peeled and thinly cut
6. Whole Grilled Japanese Eggplant with Lemon and Soy Sauce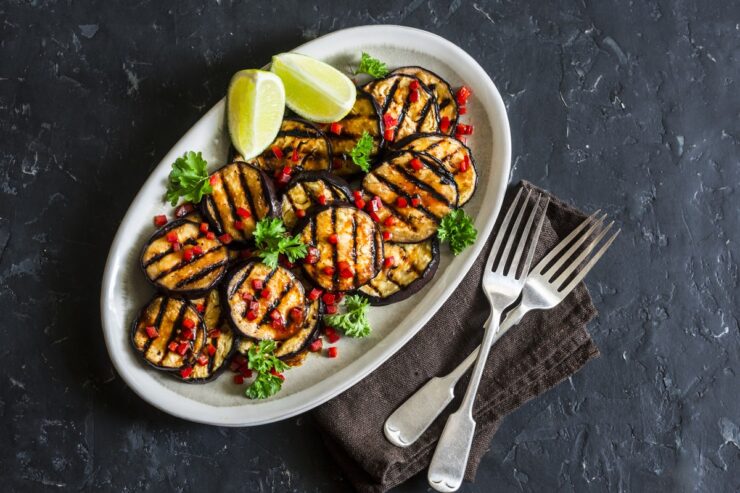 Japanese eggplants have a distinctive and meaty flavor that gets even better and creamier once grilled. The best way to enjoy this dish is to mix it with soy sauce or Ponzu. The dressing below is also fantastic and adds a subtle note to this tasty meal.
Ingredients
2 tablespoons soy sauce
4 teaspoons lemon juice
2 teaspoons olive oil
4 Japanese eggplants (they should weigh roughly 1 pound)
¼ cup katsuobushi, dried
7. Strip Steak with Japanese Dipping Sauce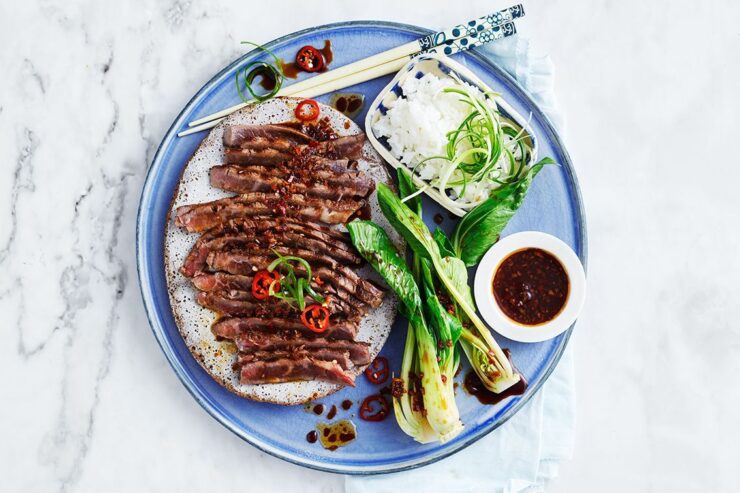 This steak gets an amazing flavor boost from herb rub. It gets paired with meant with a tart ponzu sauce. You can get ponzu in Asian markets, although they are often available in some supermarkets. It adds specific and rich flavor and changes the way you approach stake grilling.
Ingredients
2 sprigs rosemary
2 sprigs thyme
2 strip steaks (1-inch thick)
1 tablespoon olive oil
Kosher salt, freshly ground pepper
½ cup ponzu
¼ cup grated carrot
¼ cup grated daikon (Japanese white radish)
8. Negima Yakitori – Chicken and Spring Onion Skewers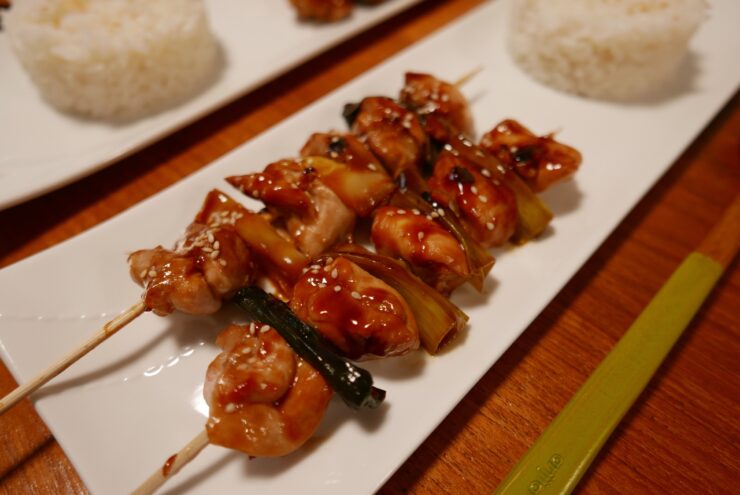 Yakitori (grilled chicken) is a pretty straightforward dish. Negima Yakitori is one of the most popular Japanese recipes containing chicken tighs sprinkled with spring onions. It is best to prepare it with dark chicken thighs because darker meat really boosts the flavor of this particular dish.
Ingredients
4 chicken thighs without skin and bones
3 spring onions
8 wooden skewers soaked in water for 20 minutes
Sesame seeds to garnish
Spring onion to garnish
Sauce Ingredients
6 tablespoons sake
4 tablespoons mirin
4 tablespoons soy sauce
1 tablespoon sugar
9. Curried Cauliflower Steaks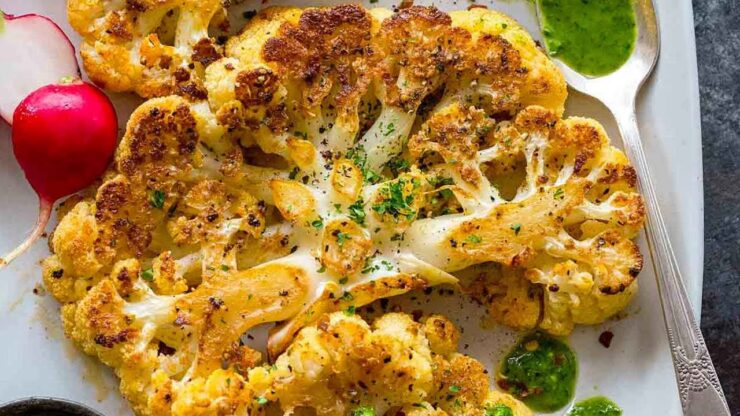 You would be surprised just how much cauliflower's taste can improve if you add the right combination of ingredients. In this recipe, it is a fusion of chopped chili, garlic, and Chinese curry paste. It is a fantastic vegetarian barbeque dish that is well worth checking out.
Ingredients
1 head of cauliflower
1 peeled and sliced onion
1 tablespoon chopped garlic
1 tablespoon chopped ginger
1 tablespoon crushed chili
100 g curry stir fry sauce (Chinese or Katsu)
10. Grilled Kukrobuta Pork Chops with Miso Sauce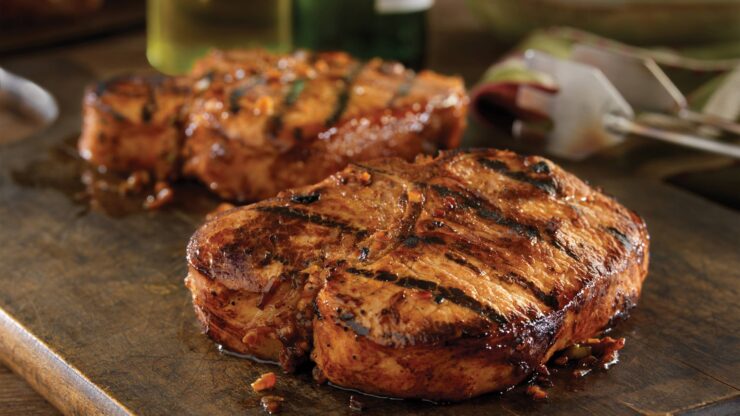 This juicy, moist, and perfectly grilled dish offers an outstanding blend of flavors. It is fairly easy to prepare and requires roughly two hours of cooking time. The miso sauce is infused with tasty ingredients and adds a very interesting citrusy kick to this dish. In order to get the most out of this meal, it is best to serve it with steamed rice.
Ingredients
4 pieces of bone-in pork loin chops
1 tablespoon of kosher or sea salt
2 tablespoons miso
2 tablespoons mirin
2 tablespoons sake
2 tablespoons soy sauce
1 tablespoon roasted sesame oil
2 teaspoonful yuzu kosho (Japanese citrus chili paste)
11. Mixed Mushroom Foil Yaki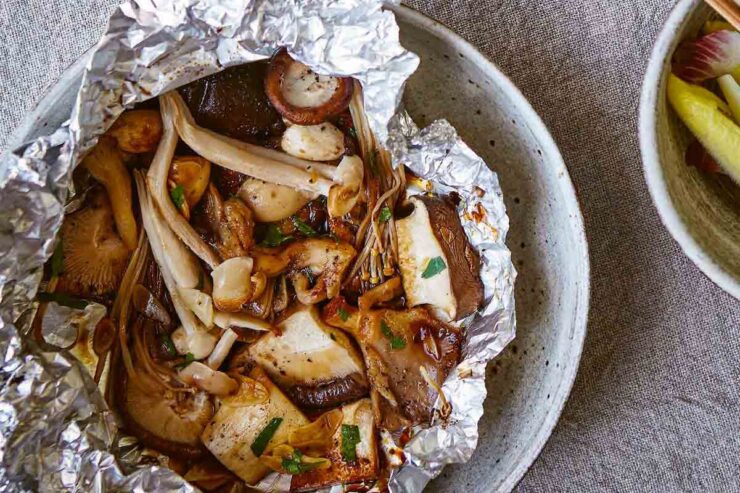 This dish is very tasty and is prepared in an interesting way. It is an amazing blend of flavors with some subtle notes. The main ingredient is mushrooms that you cook in a foil pouch with Asian sauces. You can pick shiitake, cremini, button, and bunapi mushrooms, which combined, give a unique flavor.
Ingredients
2 tablespoons sake
2 tablespoons soy sauce
1 tablespoon white miso
4 oz mixed mushrooms
½ small white onion
1 ½ tablespoon unsalted butter
Lemon wedges (used in serving)
Final Words
This concludes our list of the top 10 Japanese grilling recipes. There is nothing as delicious as thinly sliced pieces of meat prepared using specific types of grill and traditional Japanese methods. Whether you are seafood, pork, or fish fan, there is something for everyone.
For more recipe ideas take a look at the following list of Japanese cookbooks: